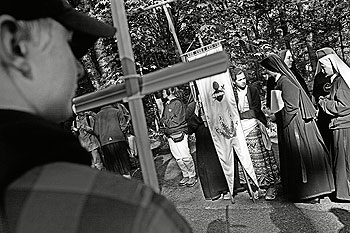 After years of loyal service, Bob Seeley needs a break from pilgrimage responsibilities. (He & Mrs. Seeley have plenty of those already at home demanding his attention — and another Little One on the way, Deo gratias. Hence, the present search. … Mrs. Seeley needs her man full-time at home this year!)
Needed is a replacement in Bob's rôle as Director of the Modified Pilgrimage.
No previous experience necessary, not even on pilgrimage. Fellow organizers will train the new Director. The readiness (and generosity) is all!
We're asking you to do the following:
1. Please post this search request on your Facebook pages, or circulate it in whatever manner among pilgrims et al as you can online.
2. Please reply to this post via e-mail to notify that you'll keep in mind the search for a replacement.
By the way, the Director does NOT have to make pilgrimage on site this autumn. In that case, preparations can be split between two organizers, one concentrating on preparations before the days of pilgrimage and the other on directing in the field.