As pilgrims prepare for step off this Friday, here are pictures of the weather forecast for each campsite location. Pilgrims should keep the weather in mind as they prepare, and pack appropriate clothing and shoes. For suggestions, see this post.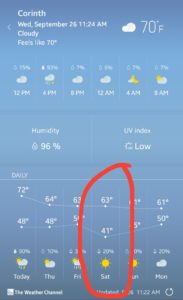 Pilgrimage for Restoration
Come to restore. The rest will come.
23rd annual — 2018 A.D.
Friday – Sunday
28 – 30 September
"Now is the acceptable time."
Your friends staying home this year can make pilgrimage from afar, from home or parish: obtain a plenary indulgence, sponsor a pilgrim (or two), request prayers or offer them — all from this page.
Listen to and learn the Songs of Pilgrimage!
"No one makes pilgrimage alone."
Oremus pro invicem.
In unione orationum.
Ad majorem Dei gloriam.