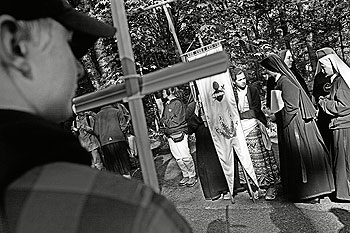 The Directorate and the Chief of Brigadiers ask all brigadiers & their officers to download the Brigade Manual for reference before step-off.
The linked manual is, in its current form, in serious need of pretty much a complete overhaul.
Those brigadiers & their officers — or any aspiring pilgrims — who wish to assist in its revision are asked to contact the Chief of Brigadiers, Michael Six.
In addition, we ask those brigadiers whose blogs are already up and running to make sure the same manual is posted to their blog asap, and to alert their officers to refer to it, stat.
St. Joan of Arc
St. Isaac Jogues & Companions
St. Michael the Archangel
For those brigades which do not yet have a blog, their brigadiers are asked to contact the Chief of Brigadiers, Mr. Six, to get started. 484/330-9861
After Pilgrimage 2013 the Directorate expects to create a separate blog devoted to brigade life 'in season and out of season', in order to help brigadesmen & women to continue the pilgrimage for restoration throughout the year.