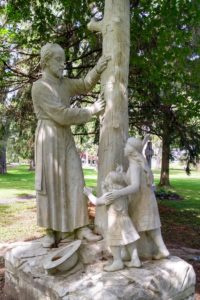 Pilgrim families & seniors arriving Sunday, September 27, are most welcome to join pilgrim families & seniors already on pilgrimage at 9:45 Sunday morning, arriving at the Shrine for special events there.
You are cordially invited to participate in a spiritual talk or two for adults and children, starting at 10:15am, a shared lunch at 11:00am, and Confessions and children's activities at 11:40am.
Feel free to bring a simple dish to share!

Click here for the schedule of events and timeline. 
Exact instructions are given in the timeline & schedule of events linked above.
READ THE INSTRUCTIONS CAREFULLY.
PRINT OUT THE .pdf, LINKED HERE.
BRING IT WITH YOU SUNDAY FOR REFERENCE.
Drivers are asked to drop off their passengers at the Shrine of Our Lady of Guadalupe located at 501 Ridge Ave, Allentown, PA. Drivers should then park at either the lot of St. Michael's Church (located at 156 Green Street) or the lot of St. John the Baptist Church (located at 924 N Front Street). From St. John's, the drivers will be shuttled to the Shrine. Those parking at St. Michael's can opt to walk back to the Shrine (2 blocks).
Blessed pilgrimage!