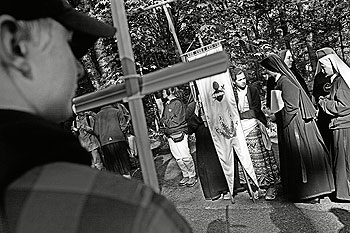 Pilgrims report many prayers answered on Pilgrimage 2013, which concluded Sunday, September 22.
Deo gratias!
Now's the time to mark your 2014 calendar!
The 19th annual Pilgrimage for Restoration is scheduled for Friday-Sunday, September 19-21.
Check the blog & website for updates. Will you participate in 2014?
Don't lose the grace of pilgrimage! PRE-register today for next year. (It's quick, painless and there are no obligations.)
http://national-coalition.org/w/pre-registration-pilgrimage-2014
Pilgrimage for Restoration
Come to restore. The rest will come.
19th Annual Pilgrimage for Restoration
Friday – Sunday
September 19-21, 2014
"Now is the acceptable time."
Jump-start your plans, even if you are not sure you can make it to Auriesville. PRE-register. It's simple, easy & there are no strings attached: you are left free to decide later whether you can make it or not.
You can also make pilgrimage from afar, from home or parish: obtain a plenary indulgence, sponsor a pilgrim (or two), request prayers or offer them — all from this page.
Listen to and learn the Songs of Pilgrimage!