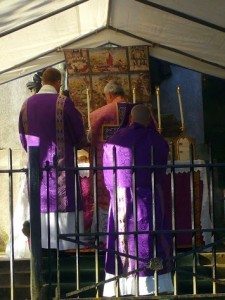 Day of Recollection – Pilgrimage 2017
Saturday, 11 February 2017
Feast of Our Lady of Lourdes
St. Stephen of Hungary Catholic Church …
510 West Union Street, Allentown PA 18101-2307
ALL TIMES SUBJECT TO FINAL APPROBATION OF CHAPLAIN
(Confessions-schedule is still TENTATIVE as of this writing.)
Please e-mail the Vice-Director of Communications to confirm your attendance, or to send regrets.

Organizers will broadcast morning & afternoon sessions online IF AND ONLY IF SUFFICIENT REQUESTS ARE RECEIVED BY FEBRUARY 6

Send an e-mail to request it.
SCHEDULE
07:35 – confessions
08:00 – holy Mass
Those praying from afar are asked to pray the prayers of holy Mass and make a spiritual Communion at 08:25 EST.
08:35-09:00 – thanksgiving in silence — confessions
09:05-09:55 – breakfast (brown bag; microwave, coffee & hot water supplied)
10:00-10:45 – first directed meditation
Meditations directed by Rev. Fr. Gregory A. Pendergraft, FSSP
10:50-11:15 – silent reflection — confessions
11:20-12:00 – second directed meditation
12:05-12:20 – silent reflection — confessions
12:25-13:00 – lunch (brown bag; coffee, hot water, microwave supplied)
13:05-13:45 – third directed meditation
13:50-14:15 – silent reflection — confessions
afternoon planning sessions – with organizers, to prepare for Pilgrimage 2017
14:30-15:05 – overview of pilgrimage organization, with questions & answers
15:15-15:55 – on commitment of service to Christ's will for his pilgrims; and the need to make oneself indispensable – NOT
16:00-16:50 – listing negative effects, and tracing them back the their causes; then analyzing the causes, proposing solutions, and scheduling their implementation
17:00 – prayers and final blessing